Our October contest will kick off October 1st. Details of the game will be posted in The Game Room, so be on the look out.
We already have a fabulous prize package put together. Remember, you can enter to win even if you've already won before! The winner of this prize package will be based on the number of posts in our October game. This game will be challenging, but hopefully lots of fun!
October 2008 Contest prize package:
Prize #1
A $20.00 gift certificate to
HOT Scent Boutique
http://www.hotscentboutique.com/
Prize #2
Spotted Hog Candles
http://www.thespottedhogcandle.com/
1 - 12oz. Jack-O-Lantern Jar Candle in the scent Pumpkin Donuts or Pumpkin Pie (winner's choice)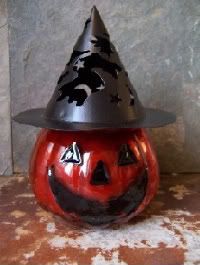 This candle is double wicked for a complete and even burn.
Black Tin Witches Hat adds an adorable accent to this spooky candle.
Also works as a topper as 'ghostly' shadows are cast from witch, moon and star cutouts on hat when candle is lit.
AND
A Spotted Hog "Haunt your house" sampler pack! TWENTY 2oz melts in the scents:
Spider Cider N Deadly Donuts ™
Butter Pecan Pie
Caramel Apples
Divinity Fudge ™
French Vanilla
Goblin Sin-O-mon Sugar Cake™
Iced Cinnamon Rolls
Pistachio Pudding
Perfect Pumpkin Pie
Pumpkin Donuts ™
Scarecrows Harvest
Seven Layer Bars
Candied Yams
Fried Cinnamon Dumplings ™
Jack O' Lanterns Glow
Shortbread Cookies
Caramel Corn
Rice Krispy Treats
Caramel Cinnamon Latte
Frosted Carrot Cake
** For optimal throw, these 2oz tarts must be cut in half before melting**
Spotted Hog prize package is a $50.00 value.
AND
Prize #3
Gold Canyon Candles
in new Fall Fragrances
http://www.goldcanyon.com/
1 - 16oz candle in the scent Mulled Harvest
1 - 16oz candle in the scent Spruce & Citrus
1 - 8oz candle in the scent Raspberry Cocoa Torte
1 - 9 pack of tealights in the scent Cedar Woods
1 - 9 pack of tealights in the scent Orange Cranberry
This month's prize package value's at over $130.00.