Scrub p0rn!
I snapped a few pictures of me order from
The Soapbox Co
.
Here is how everything was packaged: That's a perfume oil in front Clementine Cupcake scent.
Here is the Easter egg extra promotion. It contained a Marshmallow Peep lippy and a mini Beet It soap from Paintbox Soapworks.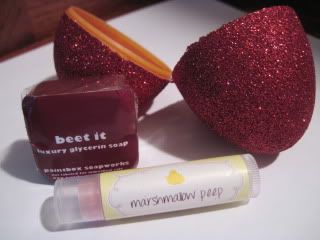 Here are the two glorious Arcana scrubs. The pink one is Breakfast in Hollywood and the smaller one is a Gingerbread scrub. These smell amazing! Breakfast in Hollywood is TDF.
This is the Supervillainess scrub. The texture is nice. Not loving the scent.